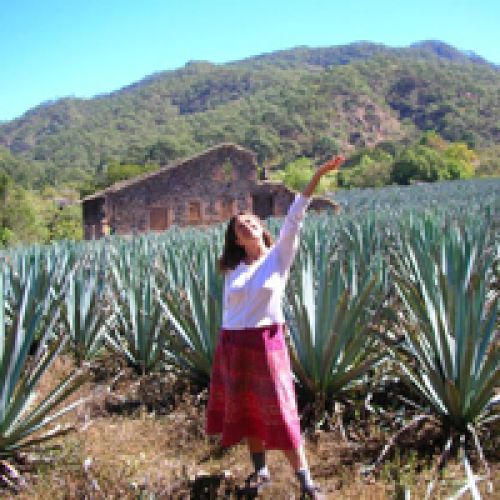 USING THE PRIMARY COLORS, VIRGINIA BLENDS THEM TO CREATE HER OWN COLORS, EVEN BLACK.
She prefers to work on wet, raw, unsealed cotton canvas. Although the medium is acrylic, this stain method of painting sometimes creates batik or watercolor effects. Instead of brushes, she uses a variety of implements, including chopsticks, pieces of yarn and even her bare hands.
Virginia has traveled extensively. The colors and textures of exotic locales including Guatemala, Mexico, Thailand and Nepal stirred longings to express herself creatively. Visits to museums in the US and Europe fed her hunger for knowledge, while time spent in Nature fed her soul.
"I believe that Nature is the greatest artist of all. It is from this Master that I derive my ultimate inspiration." – Virginia Castro
Living in the mountains of Colorado provides her with an abundance of opportunities to be inspired by the world around her. She has called Salida home since the fall of 2009. Durango, Boulder, Grand Junction and La Veta Pass have all been home, too. She grew up in Walsenburg, the hometown of her father, and the area inhabited by generations of her ancestors.
She received her degree in Business Administration from the University of Colorado in Boulder. While attending the business school, she often received surprised comments about the fact that she was majoring in business. Her creativity and inevitable artistic pursuits were apparently evident to those around her. Summer art camp and honors art classes in her youth had laid the foundation for her future artistic endeavors.
While in Durango, she served on the City Council and was the Mayor. During that time, she was instrumental in preserving hundreds of acres of open space, expanding the recycling program, completing key sections of the Animas River Trail and securing funding for a new library. She recalls that period as a rich and full time in her life.
Community involvement remains an important life aspect for Virginia. She volunteers at the community radio station, KHEN. She is currently working to combine her radio volunteer hours with the local animal shelter, Ark-Valley Humane Society, to produce The Stray Cat Strut radio show.